Business Hours
Mon:
7:00 AM - 7:00 PM
Tues:
7:00 AM - 7:00 PM
Wed:
7:00 AM - 7:00 PM
Thur:
7:00 AM - 7:00 PM
Fri:
7:00 AM - 7:00 PM
Sat:
8:00 AM - 5:00 PM
Sun:
Closed
Get Dependably Great Service from True Experts.
With GM-trained technicians at thousands of dealers nationwide, we're there for all your service needs wherever and whenever you need us. Regular vehicle maintenance helps to prevent unnecessary future maintenance costs and repairs.
From oil changes to tire rotations, our dealership is focused on one thing: Your complete satisfaction.
Importance of regular maintenance
Protect your investment. Get more out of your vehicle with routine maintenance from the Chevy Certified Service experts.
Multi-Point Vehicle Inspection
With every service visit you'll receive a Multi-Point Vehicle Inspection. Our trained service experts will complete a thorough assessment of your vehicle and let you know if any maintenance or repairs are necessary. Protect yourself and your automotive investment with a comprehensive Multi-Point Vehicle Inspection at your Chevrolet dealer today.
Oil change – the 3,000-mile myth
Regular oil changes can help improve the performance and fuel economy of your Chevrolet car, truck, or SUV. Many older-model Chevrolet vehicles, including those manufactured without or before the creation of the Oil Life Monitoring System, require oil changes at 3,000-mile intervals. However, thanks to advances in engine technologies, newer models have a much longer range between oil changes. Always refer to your Chevrolet vehicle Owner's Manual for oil-change intervals for your specific vehicle.
Certified Service technicians at your Chevrolet dealer are expertly trained to understand how your vehicle uses its oil and how it monitors oil life. An oil change from a Certified Service technician not only gives you great service, convenience, and a great price, but you also get the added value of their expertise on your Chevrolet vehicle.
Selecting oil for your Chevrolet
ACDelco


Conventional Oil

Offers quality engine wear and corrosion protection
Contains special additives that help your engine run smoothly

ACDelco dexos1™


Full Synthetic Oil

High resistance to oxidation, which helps keep the oil from breaking down
Excellent low-temperature flow and pumpability during cold start-ups
Excellent protection to help prevent formation of sludge and other harmful deposits

Mobil 1 Full


Synthetic Oil

Advanced anti-wear technology for outstanding protection of critical engine parts
Exceptional high-temperature stability helps resist oxidative thickening
Proven to provide outstanding cold starting, lubrication and protection from wear at low
Why is tire pressure important?
Air is a gas, expanding when heated and contracting when cooled. For most of North America, fall and early winter are especially important times for checking tire pressure on your Chevrolet vehicle — as the ambient temperature falls, tire pressure goes down. A good rule of thumb: with every 10 degrees Fahrenheit of temperature change, tire pressure changes about 1 psi – higher as temperatures rise, lower as they fall.
What happens if your tire is underinflated?

Premature or irregular wear
Poor handling
Reduced fuel economy
Overheating, which could lead to a blowout
What happens if your tire is overinflated?

Unusual wear
Poor handling
Rough ride
Greater risk of damage from road hazards
How to check tire pressure
Check your tires at least once a month when the tires are cold, meaning the vehicle has not been driven for at least three hours or no more than one mile. The Tire Information Label located on the inside of your vehicle's doorframe has the recommended cold tire pressure for your vehicle. Use a quality gauge. Don't try to eyeball it—radial tires may appear fine even when they're underinflated. Look for objects that can get wedged in the tread—they'll work themselves even further into the tire and cause air loss. To make sure you're covered, every check of your tires should include a check of your spare (if available), as well.
Stay on a Roll
Maintaining your tires is important. Here are some tips for extending the life of your tires.
A trained dealership Certified Service technician can recommend the best tires for your vehicle
A tire rotation every 7,500 miles helps ensure even wear on tires and helps keep you safe
Visit your dealership for tire and wheel balancing service to help ensure smooth vehicle operation
Properly inflated tires help your vehicle run more efficiently
Have a Chevy EV? Extend your Tire Life
As an EV owner tire care is a priority. To help keep your vehicle running efficiently — and safer — on the road, try these tips to keep your tires balanced, rotated and inflated.
Are your brakes signaling a problem?
Sometimes, your Chevrolet vehicle's brakes will alert you when there's trouble. Whistling noises, chirping sounds, and grinding are indications that brake service is required. Here are some common causes of brake pedal pulsation and/or noise:
Worn brake pads
Heat-cracked or worn rotors
Loose-fitting brake pads in the caliper
Missing or damaged noise insulators
Uneven torque of lug nuts or caliper hardware
Vehicles often come equipped with a small, thin piece of metal attached to the brake pad to act as a warning indicator when the pad material is getting low and the brake pads should be replaced. This device makes a chirping noise on brake application, letting you know it's time to have your brakes serviced.
Knowing the warning signs
There are signs to watch and listen for that may indicate it's time for brake maintenance. Paying attention to these common warning signsand keeping up with regular maintenance will help you avoid costly repairs down the road.
Auto battery replacement
The Chevrolet Certified Service experts are trained to inspect your vehicle's battery and perform replacement services if needed. Your vehicle's battery provides the engine with the necessary energy to start and also powers accessories when the engine is not running.
Don't wait until your battery dies. The cold of winter and the heat of summer can wear on auto batteries over time, have your battery inspected at a Chevrolet dealership. Should you need a new battery, Chevrolet proudly offers a wide range of ACDelco auto batteries for the best combination of longevity, power, and price.
Testing your battery
Bring your vehicle to the Certified Service experts and they'll test your battery to ensure all systems are working properly. If your battery needs replacing, the Service experts can help you find the right battery for your vehicle.
MY CHEVROLET REWARDS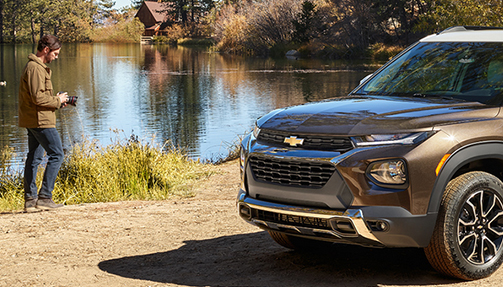 Sign Up for My Chevrolet Rewards and Start Earning Today
Earning points couldn't be easier. With My Chevrolet Rewards, you'll earn 6 points for every dollar spent† on eligible service you're already doing, like your regular maintenance visits.
You can also redeem points to pay for eligible service and keep moving forward for less, all while keeping your vehicle well-maintained and ready for adventure.
Start Earning Points
† Must be 18 years or older. Points may be earned and redeemed only at participating GM entities, dealers or third party retailers in the United States (excluding Puerto Rico, the U.S. Virgin Islands or Guam). Points are not earned on taxes or certain fees, and expire 5 years from when points are earned. Some restrictions apply. Visit mychevroletrewards.com to view program Terms & Conditions.